24 Then Jesus told his disciples, "If anyone would come after me, let him deny himself and take up his cross and follow me. 25 For whoever would save his life will lose it, but whoever loses his life for my sake will find it. 26 For what will it profit a man if he gains the whole world and forfeits his soul? Or what shall a man give in return for his soul?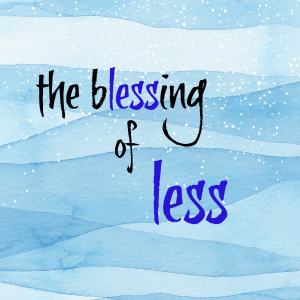 Lent is the season of denying self for spiritual gain. Lent has always held a special place in my heart. My parents taught me from an early age to partake in the blessing of denial. The blessing of less. In less there is more. Less of me, more of Him. Less of sin, more of Him. Less of flesh, more of Him.
Somehow denying ourselves of the everyday makes it a little less familiar and a lot more special. We cut back on the everyday to make room for the sacred. The blessing of less.
The Greek word for deny, used in verse 24 is aparneomai which is derived from the root word arneomai which means to disregard his own interests or to prove false to himself, to act entirely unlike himself.
Isn't this what happens to us when we become a new creature in Christ? We stop living for self and start living for Him? There are times when the greatest compliment I could receive is She is acting completely unlike herself.
Let that be our prayer. Father, help us to act entirely unlike ourselves and be entirely like Jesus.
What do you need to give up this lent? Beyond denying yourself candy, or pop, what is God really going after in your life/my life to make us entirely unlike our old selves and more like our Savior?
Please leave me a comment in the space below about your Lenten journey. I'd love to chat with you!

all rights reserved. copyright 2020