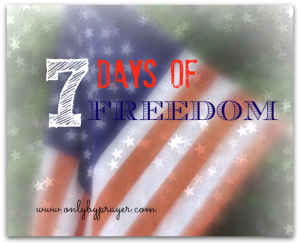 Out of my distress I called on the LORD;
the LORD answered me and set me free.
Psalm 118:5

free

[free]

adjective



enjoying

personal

rights

or

liberty,

as

a

person

who

is

not

in

slavery

pertaining

to

or

reserved

for

those

who

enjoy

personal

liberty

clear

of

obstructions

or

obstacles,

as

a

road

or

corridor

enjoying

political

autonomy,

as

a

people

or

country

not

under

foreign

rule;

independent
One of my European cousins has often commented on the American's obsession with freedom. I must admit, I love the freedoms granted by our Constitution. Why? Because freedom means choice. It means I am free to be who God created me to be.
Freedom is also a very important spiritual concept, more important than national freedom. In fact, a person cannot be completely free unless they have been set free from sin. Most Americans have not experienced the bondage of physical slavery, but we all have been in bondage to sin. But because Jesus died for us on the cross, we have been set  free.
The Hebrew word for freedom used in the verse above is merchab which means a broad roomy place. or wide expanses. Merchab is derived from the root word rachab which means to grow large, to grow wide. One of the things Jesus  frees us from is distresses, metsar in the Hebrew. Metsar, which means trouble, pains, or tight places, when traced to its root also means,  stomach. From the previous definitions, we can infer our worries keep us small, stunt our growth, hem us in, and tie our stomach in knots.
Ironically, Jesus sets us free so we can experience true freedom by becoming … slaves of Christ. His yoke is easy and His burden is light. When Jesus sets us free, we are free indeed.
Action Points
A slave does the will of his Master. What area/s of life are you still controlling?
Because you are safe in the hands of your Master, what are you free to do?
What are the blessings of living according to the will of the Good Master?
How does being a slave of Christ bring freedom?
God Bless America.


We hope you enjoy the music below.

"free." Dictionary.com Unabridged. Random House, Inc. 28 Jun. 2015. <Dictionary.com http://dictionary.reference.com/browse/firm>.