Mark and I were cycling recently on a muggy, Sunday afternoon. I couldn't wait to enter the shade of a tunnel just ahead of us. We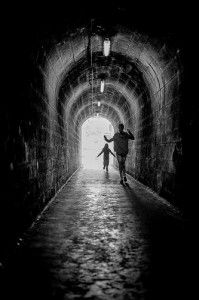 rode into the cool, dim passageway, and I could barely see a little boy of about 6 racing toward us on his bike from the other end, his dad just a little behind him.
"Daddy, I love youuuuuuuu!" he yelled, delighting in the echo his voice made as it bounced off the walls.
"And I love you, bud!" his dad yelled back.
"You're the best dad EVERRRR!" the boy shouted as he zoomed by us, his face lit with a huge grin.
"You're the best son ever," his dad yelled back.
I smiled as their voices and love danced through the tunnel washing over us, thankful that God made us privy to their joy. As that little scene replayed itself in my head, the Holy Spirit whispered to me that it is a perfect example of God's love for us. Sometimes we hit tunnels in our lives where we can't quite see what's ahead of us. But we can do just what that little boy did. We can lift our voices in praise to God.
"God I love you! You're the Only God ever!" we can yell, letting our voices echo over any fear and uncertainty.
And God yells back to us, "You're the best kid ever, and I love you too!"
Even when we can't see our way clear, we can listen for His voice, His encouragement, His comfort, secure in His love in the darkness. Where do you need to hear Him today?
photo credit: mripp via photopin cc