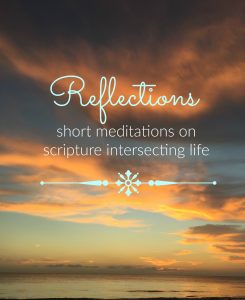 Thank you for joining us for Reflections, short meditations on scripture intersecting life.
Show Notes
In today's Reflections we are meditating on Luke 10:38-39:
As Jesus and His disciples were on their way, He came to a village where a woman named Martha opened her home to Him. She had a sister called Mary, who sat at the Lord's feet listening to what He said. 
As I read through the Bible, I see that Mary was not the only one who ended up at the Lord's feet. Many others did too. And it was usually for one of two reasons:
They were desperate for healing.
They has just received their healing from Jesus.
What is it about being at the feet of Jesus that is so powerful? Let's consider that question today on Reflections.
To listen to this short 5-minute podcast, just click on the arrow below. Or subscribe to us on iTunes. We'd love it if you'd leave us a review too.
Be sure to grab your journal and record your own meditations after listening to and praying through the reflection.
May your soul's meditation be fuel for Spirit-led actions today!
SaveSave