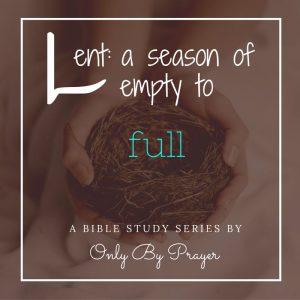 Be dressed ready for service and keep your lamps burning, 36 like servants waiting for their master to return from a wedding banquet, so that when he comes and knocks they can immediately open the door for him. Luke 12:35-36
Welcome to the final week of our Lent: empty to full study. We are so thankful for each one who has made this journey with us. For our final week, we will be looking at service.
Service can be a spur-of-the-moment Spirit-led prompting to help someone, or it can be a longer commitment that you make, perhaps as a volunteer.
Your season of life will influence your acts of service. Parents with small children often find most of their time is spent serving their families. As your children grow, your schedule may allow for more time for you to serve others outside of your home as well.
The most important way to determine where God wants you serving in this season of life is to of course pray about it. Seek His plans and be alert to opportunities He brings your way. Enjoy this week's Sway and be sure to let us know some of the different ways you have served others in your life!
Have a blessed Easter!
Jane Vanosdol and Mary Kane
all rights reserved
copyright 2016