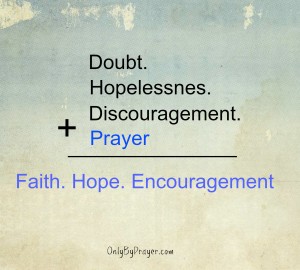 Doubt. Hopelessness. Discouragement.
Three feelings that I have struggled with today because of a situation that is very slow to resolve. Yet in the midst of this, God shows me what my place needs to be in this story by encouraging me with another's story, that of Obadiah.
1 Kings 18 opens with a vignette of Obadiah's life. He lived in a precarious time, during the reign of King Ahab of Israel. As you may know, King Ahab goes down as one of the most wicked kings in Israel; he was married to Jezebel, a notorious woman in her own right. Together they were a formidable pair. The people of Israel had been suffering through a three-year drought when Obadiah is introduced. The Bible describes him as "a devoted follower of the Lord." I was then shocked to find out what his job was: Obadiah was in charge of the palace! Imagine that. Talk about being in the lion's den.
In his position, he, a devout believer, would have constant contact with the royal family. As I thought about that, it occurred to me that it was no accident that Obadiah was where he was. God strategically put this man of faith in the place where he would be able to thwart the evil that was going on around him. And the Bible shows us that he did that. When Jezebel tried to kill all the Lord's prophets, Obadiah heroically hid 100 of them and supplied them with food and water. He probably would not have been privy to the inside information (and resources) that tipped him off to the prophets' plight had he been living anywhere else.
As I was lamenting my own situation, I began to see that God also has me exactly where he wants me. Right in the midst of this mess that needs the prayer of a believer. Because only God can "unmess" it. Just like Obadiah, I need to put my intercessory prayers in that gap between heaven and earth as I pray for a resolution to this problem. I may not like the situation, but I need to make myself useful while I am here.
How about you? Where does God have you at today? That illness, that relationship tangle, that addiction is just the place where he needs a prayer warrior courageously interceding for healing and reconciliation. It's time to get to work.
Doubt. Hopelessness. Discouragement + Prayer =  Faith. Hope. Encouragement.
Pray on!