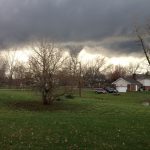 Over the weekend, violent storms pummeled part of the Midwest, including my community. Although the morning started out sunshiny and beautiful, by the time the afternoon rolled around, I definitely had my eye to the sky as angry, black clouds played hide and seek with the sunshine and warning sirens echoed through our neighborhood.
The worst of the storms passed slightly to our north, but some friends of my son, Jesse, weren't so lucky. Trinity's family home was hit and partially destroyed by a tornado. The storm took out two rooms of their home and a salon that was also on their property that they used for a home business.
Jesse, Cameron, Trinity, and Heather headed north to see if they could help Trinity's family, bringing along a pack of water bottles. The area was hit hard, and the four of them ended up joining a crowd of people helping a neighbor whose barn was destroyed. They ordered pizzas for the family and worked in the dark trying to bring some order to the chaos.
Even though Trinity's family was hurting, they reached out to help others, becoming the hands and feet of Jesus. Bringing hope and healing into despair and destruction.
The message carved in the mud on Trinity's house is a testament of faith, words of hope in the midst of a storm where The Sacred is intersecting the not so Everyday.