Faith & Fit: Week 5, Lesson 1
We are so glad you are back for Week 5, Lesson 1 of Faith & Fit: Water Week. You have made great progress! If you have a few sore muscles take a day off if needed from the Physical Challenge. Remember, hardship means growth. Fight the good fight and finish your race! Listed below is your Faith & Fit work for today. Please click on the links or the play buttons to access each resource. Remember to leave a comment about your experience at the Speak Your Mind section at the bottom of the page. In Christ, we can grow stronger.  Let's do it!
Everyday Faith Teaching Video:

Everyday Faith Scripture Reading:
I apologize for for the mix up on the Week 4, Lesson 2 Bible study. Week 4 Lesson 2 is under today's Bible study link. Please click on the link below to access Everyday Faith Bible Study:

Everyday Fit Physical Challenge:
Beginner Level: Today make it your goal to walk for 1.5-2 miles. Walk at a pace that you are comfortable with and that you are still able to carry on a conversation. If you want to switch it up a bit, try riding your bike for 2 miles. As always, check with your doctor before beginning any physical workout to be sure you are up for the challenge! For more information, please read the following article on how to begin a walking program: Walking Program
Experienced Level: Today make it your goal to walk or ride your bike for 45 minutes. Walk or ride at a pace you are comfortable with and that your are able to carry on a conversation. By the end of your walk/ride you should be sweaty and tired but not exhausted. As always, check with your doctor before beginning any physical workout to be sure you are up for the challenge! Let's continue push-ups with Coach Dan!
.

Rainy day? Don't worry! Click on the link below for a great challenging indoor work out with Leslie Sansone!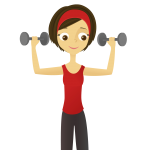 Everyday Fit Food Challenge:
Water Week:

Today we want to be aware of how much water we are drinking. If you're like me, it's easy to get lost in your day and forget to take a water break as the hours pass by. However, we all know how important drinking water is. Every system in our body depends on water. According to this excellent article by the Mayo Clinic, Water: How Much Should You Drink Every Day? everyone's needs for water differ. "You may need to modify your total fluid intake depending on how active you are, the climate you live in, your health status, and if you're pregnant or breast-feeding," states the article.
Mary is very good about getting her water in each day. She packs a large water bottle for school every morning and makes sure she finishes it by the end of the day. Do you have any tips to share that help you remember to keep yourself hydrated? Please share them on our Facebook page or at the bottom of this post.
Here is my tip: I love to add a slice of lemon to my water. It makes it seem extra refreshing. In addition to that, in the summer I snip a few sprigs of mint from my herb plants and add them to my water. Mint really gives the water a zing. Here are some fun Pinterest water recipes that I can't wait to try.

Recommended Reading: Hearing God by Dallas Willard

Extra Faith:
Need a little extra spiritual challenge added to your day? Take advantage of the following resources!
 Joyce Meyer Anatomy of a Habit Part 2

Extra Fit
Need an extra challenge? Get your abs in shape with Team Beachbody Coach and Founder of Team Let's Go Fitness at Dan Vukmirovich. Dan's videos are short, effective and productive! Let's go!
You are doing great! You have made it to Week 5. Keep up the good work and share what you've been learning so far.