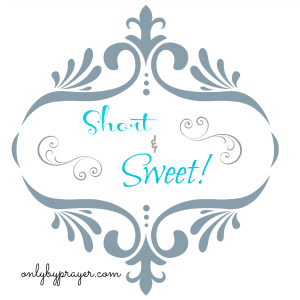 Be Merciful to me, O God, be merciful to me!
For my soul trusts in You;
And in the shadow of Your wings I will make my refuge,
Until these calamities have passed by.
I cry out to God Most High,
to God who fulfills his purpose for me.
He will send from heaven and save me;
he will put to shame him who tramples on me.

Selah
God will send out his steadfast love and his faithfulness!
Psalm 57:1-3
David wrote this Psalm while he was fleeing from King Saul. Where did David take refuge? In the shadow of God's wings. It is very comforting to me to know that I am safe in the very shadow of His wings. Think of it …  He is so powerful and holy, His shadow keeps me safe.
What does it truly mean to
hide in the shadow of His wings
? I was talking this over with God earlier this week.
What does hiding in the shadow of Your wings look like?
God's answer came to me: obedience. Obedience leads to protection; it is taking the truth of God's Word and acting on it.  When I am obedient, I follow exactly in the footsteps of Jesus, so close that I walk in His very shadow… the
shadow of His wings
. When I am in the
shadow of His wings,
I can live my life boldly and courageously because I know my God has me covered.
What do we do when we are in the shadow of His wings? We continue to live, breath, serve, minister, fight, stand, pray, love, and rejoice.
Action Points:
 What calamities are you facing right now? Are you hiding in the

shadow of His wings

or are you just hiding?
What steps of obedience do you need to take today?
Pray and ask God to help you access the strength and power He has already provided for your victory over this situation.
Life is sweet.