"Do not let your heart be troubled; believe in God, believe also in Me." John 14:1
It's everywhere: Keep Calm and Carry On. This famous British slogan from World War II, is currently emblazoned on T-shirts, billboards, magazines, and advertisements.
During World War II, the British government issued many morale-boosting posters. According to keepcalmandcarryon.com, "The plan in place for this poster was to issue it only upon the invasion of Britain by Germany. As this never happened, the poster was never officially seen by the public." The rest of the story is history.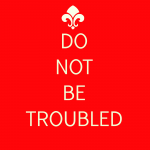 God also wants us to "Keep Calm and Carry On." Why? Because He is our sovereign Father, who knows what we need before we even ask Him. How do we keep calm? By continuing to believe Him, despite our circumstances.
If you have lost your job … keep calm and carry on.
If you are facing the thing you feared would come … keep calm and carry on.
If the hardship has come upon you which you said you could never survive … keep calm and carry on.
If in the face of your greatest heartbreak, loss, or hardship … keep calm and carry on.
Until Jesus comes back or calls you home … keep calm and carry on.
Action Points:
Name an action you will take today to show God you trust Him.
Every time you start to worry today (America's favorite pastime), replace worry with prayer.
Speak a Bible verses instead of anxious words.
Life is sweet.