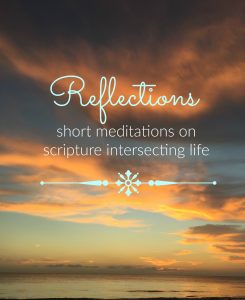 Thank you for joining us for Reflections, short meditations on scripture intersecting life.
Show Notes
In today's Reflections we are meditating on Matthew 1:18-20.
This is how the birth of Jesus Christ came about: His mother Mary was pledged to be married to Joseph, but before they came together, she was found to be with child through the Holy Spirit. Because Joseph her husband was a righteous man and did not want to expose her to public disgrace, he had in mind to divorce her quietly. But after he had considered this, an angel of the Lord appeared to him in a dream and said, "Joseph son of David, do not be afraid to take Mary home as your wife, because what is conceived in her is from the Holy Spirit."
Let's look at these verses in light of Joseph's life and choices. What can we learn from him to apply to our own lives?
Consider this: When ordinary people humble themselves, set aside their own agendas, and make room for God to work, the Holy Spirit "invades," fills their space, and turns the ordinary into the miraculous. Let's explore this thought in the podcast.
To listen, just click on the arrow or subscribe to Only By Prayer podcast on iTunes. Feel free to share any of your own insights below.
Pray on!
SaveSave