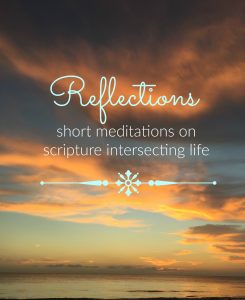 Thank you for joining us for Reflections, short meditations on scripture intersecting life.
Show Notes
In today's Reflections we are meditating on Isaiah 61:2-3
To comfort all who mourn, and provide for those who grieve in Zion—to bestow on them a crown of beauty instead of ashes, the oil of gladness instead of mourning, and a garment of praise instead of a spirit of despair. They will be called oaks of righteousness, a planting of the LORD for the display of His splendor.
The loss of a loved one is the most devastating loss we can endure. It shakes us as nothing else can. We are left bereft, dealing with a toxic swirl of emotions.
Like many of you, I know grief. I lost my second daughter when she was just 11 days old. God inserted Himself into the midst of my suffering, and walked through that time with my family and me. It was not easy, but as I held on to Him, He held me.
For those of you who know grief as your constant companion right now, I want to give you hope. You will get through this. I hope today's podcast encourages you in this journey.
To listen, just click on the triangle below or subscribe on iTunes.
Pray on!
SaveSave