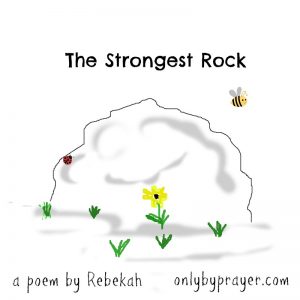 One of my students stopped me the other day, excited to share her poem with me. She wrote it during her Bible Quiet Time at school. Her poem spoke to my heart, and I think it will speak to you as well! Leave a comment below and let Rebekah know how much you enjoyed her poem!
When I think of you, my mind stops.
I go Your way, I go to the top.
When You look at me, I smile.
It brightens my way on the top.
On the top of the mountain, on the strongest Rock.
When I think of You I stop.
I knock on the door of my Father's Rock.
He opens it up with a smile
and it makes me smile all the way up on top.
I think of You no matter what.
by Rebekah
All rights reserved
Copyright 2017