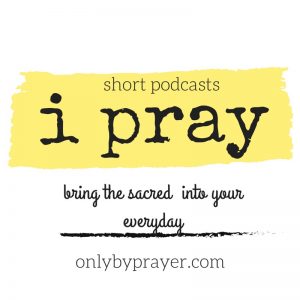 i pray
short podcasts to bring the sacred into your everyday
Do you only have a few minutes for prayer today? You're in the right place! Try one of our new i pray podcasts. A few minutes is all you need to pray God's word into any situation by interceding for friends, family, and yourself. 
Show Notes
Today we are praying about new life. Jesus is the only one, the only Savior who beat death and rose again. He is the difference. When we accept His sacrifice on the cross, taking the penalty of our sins upon Himself, then we also get to experience eternal life! When we die, we have the assurance that we will be with Him in heaven.
Abundant Life Today
But this promise is also for abundant life right now. God wants to do something new in us and through us. Today let's pray through Isaiah 43:18-19 for this new thing to spring up within us. Feel free to add your prayers or ask for prayer in the comment section.
Pray on!
Click on the arrow to listen below: