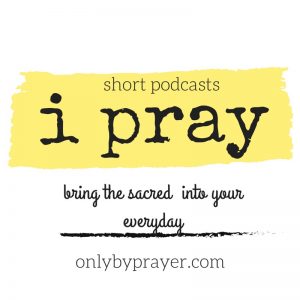 i pray
short podcasts to bring the sacred into your everyday
Do you only have a few minutes for prayer today? You're in the right place! Try one of our new i pray podcasts. A few minutes is all you need to pray God's word into any situation by interceding for friends, family, and yourself. 
This day I call the heavens and the earth as witnesses against you  that I have set before you life and death, blessings and curses. Now choose life, so that you and your children may live and that you may love the Lord Your God, listen to His voice, and hold fast to Him. For the Lord is your life, and He will give you many years in the land He swore to give to your fathers, Abraham, Isaac, and Jacob. Deuteronomy 30:19-20.
Blessings or Curses?
It was a revelation to me when as a young adult I finally realized that I got to choose what I let my mind focus on. Too often I was focusing on depressing thoughts that were dragging me down. I remember thinking, "I am the only one in charge of my thoughts." It was time for me to choose a life mentality.
How about you? Are you ready to take charge of your thoughts? Stop blaming your spouse, children, your boss, or the state of politics for your bad attitude. Join me in prayer today as we intercede for each other.
Simply click on the arrow below to listen. You can also subscribe to our podcast on iTunes!