Sometimes we all need a a little help organizing our thoughts …  especially when we are doing Bible study. Writing our thoughts on paper helps us to process them; it's the difference from "in one ear and out the other" or planting  Bible truths  deep in our heart.
Try our latest Bible Stud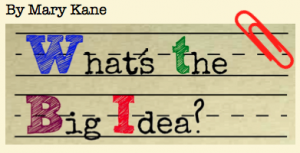 y Journal-graphics page, What's the Big Idea? Use this graphic organizer to analyze the text, identify the main idea of a passage of Scripture, and draw out meaningful details from specific verses. You will love the  insights you'll discover as you dig into God's Word!
Bible Study Journal-graphics make a great companion to any Bible study series. You can also use them to record God's messages to you as you study straight from the Bible. Your small group, discipleship training class or prayer conference will also benefit from this unique study tool.
Download  Bible Study Journal-graphics by clicking on the link  below. Be sure to make  fresh copies for each day of the week.  Please  share this graphic organizer with your church family, small group or youth group. You can also share them at your next Bible study meeting or Sunday school class. Enjoy!
Let us know how you like using Bible Study Journal-graphics in the Speak Your Mind section below.