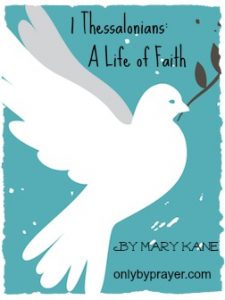 Insightful  … cute … smart … funny … quixotic!
Think of words you'd use to describe yourself. Would you ever consider describing yourself as a "most holy thing"? Me either, but God does. Because of the cross, we have been washed clean (sanctification) by the blood of Christ. The process of sanctification is not a quick fix. Sanctification continues as long as we continue to draw breath.
Thankfully, we are not responsible for our sanctification. The Father, the Son, and the Holy Spirit work together to wash away every sin and stain. Our sanctification is accomplished by His word, circumstances, prayer, and discipleship. Operation Sanctification … God's going deep!
To do 1 Thessalonians A Life of Faith, Part 15: Operation Sanctification, please click on the link below.