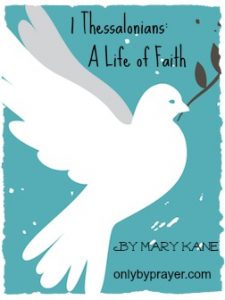 Family is the bedrock element of civilization and culture. God, creator and founder of family, placed the responsibility of family within the institution of marriage.  In God's perfect plan, children are taught, fostered and nurtured to live a life of faith by a father and a mother.
Most children would agree, mothers have a softer touch than their masculine counterparts. No matter what our age, when we are sick, hurt, or upset, we want our mother.
But, when the chips are down and there is a problem to be solved (or a car to be repaired), fathers are on call.  Sometimes children need a good dose of a dad's no-nonsense "straighten up and fly right" (especially teen-age sons). Such life-changing talks are best delivered by fathers.
Moms … dads … fathers … mothers …  cherish …  charge.It all adds up to family; not perfect but complete.  Together, fathers and mothers teach  and model  to their offspring how to live a life of faith.
In order to continue your study in 1 Thessalonians: A Life of Faith,  please click on the link below.
Please be sure to leave a comment about what you've been learning in our Speak Your Mind section at the bottom of the page.