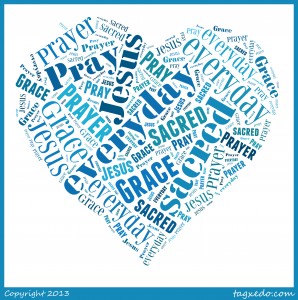 One of my passions is finding the sacred in the everyday, like our tagline says. While I love special holidays and holy days, I don't want to wait just for those times to draw close to God. I want to sharpen my sense of Him every day. But it's too easy to get caught up in the daily details of living and forget to look for Jesus right where I am.
Record God's Fingerprints
I've challenged myself to record His fingerprints in my life: as many times a week as I can, I am going to post a picture and a few words about where or how I've seen Jesus that day. It may be through a person, a place, a thing, or an idea. I've been thinking about this for a while, trying to become more aware of that thin space where heaven and earth meet. I'm excited to capture what often goes unnoticed — His sacred meeting my everyday. I hope you'll join me — and share some of yours too.
Pray on!