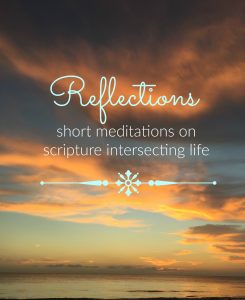 Thank you for joining us for Reflections, short meditations on scripture intersecting life
1 Corinthians 13
The #LoveTrumpsHate is being bandied around lately. I see it on signs, blog posts, Facebook, and Twitter. But it's often accompanied by words and actions that aren's so loving. No matter whom you supported in the election, both sides are slinging nastiness back and forth. Clearly the love is missing from this hashtag.
Why? It's certainly a good intention.
To find out, let's look to the Lord, the One who gave us the manual on love, 1 Corinthians 13. Join us for a short discussion on what this kind of love looks like.
Be sure to write down your reflections and keep the conversation going with God throughout the day. May your soul's meditations be fuel for Spirit-led actions today!
To listen, just click on the triangle below. You can also subscribe to the Only By Prayer podcast on iTunes. You may also want to read Mary's blog post on His Love Trumps Hate.
Pray on!
SaveSave
SaveSave