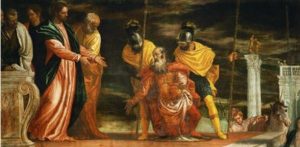 "When evening came, many who were demon-possessed were brought to Him, and He drove out the spirits with a word and healed all the sick. This was to fulfill what was spoken through the prophet Isaiah: 'He took up our infirmities and carried our diseases.'" Matthew 8:16-17 (Original verse in Isaiah 53:4.)
For our fourth devotion of Holy Week, we are studying the following stanza of the True Lenten Discipline Poem:
FAST from thoughts of illness; FEAST on the healing power of God.
(Here is the full poem of True Lenten Discipline. Here are the devotions for Monday, Tuesday, and Wednesday.)
What strikes me about this verse in Matthew is that every kind of infirmity is addressed by Jesus: spiritual, emotional, and physical diseases. We see just as many illnesses and problems in our times as were present in the Bible times–maybe even more. Jesus also wants us to be whole in mind, body, and spirit. That should always be our goal and desire too. [Read more…]