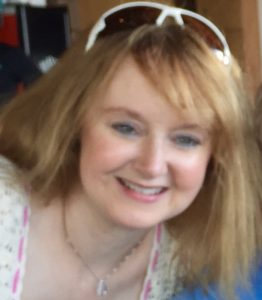 A little about me: I  live in Indiana and am married to Mark and mom to daughter, Amber; her husband, Andrew; and my son, Jesse. This season of life finds me as an empty nester, which I can hardly believe has arrived so soon! I know that some moms with young children are thinking they will never have a free moment again, but trust me, it comes much faster than you realize.
My Work:  I am an aromatherapist and freelance writer. The aromatherapy title is a new one for me. I became certified in 2015 through NAHA as a Level 1 aromatherapist and am continuing my studies to earn my 200-hour certification and then my clinical certification. I am also certified to make balms, butters, and salves. I've started my own product line and business called JanesAromaScents.com, which I am excited about. My sister Mary Kane and I speak at women's retreats and seminars under the Only By Prayer umbrella, as well as on our own.
My passion:  Over the last eight years, I've developed a passion for praying and learning more about communicating with God. I've learned much of this in the prayer ministry at my church, Grace Church in Noblesville, Indiana. Right now I'm training in the practice of Immanuel prayer.
Spare time:  In my spare time, I enjoy reading, gardening, making aromatherapy products, biking, Nordic walking, and paddleboarding!
What about you? I would also love to hear about you–what you love to do, what you would like to learn about prayer and what some of your favorite prayer tips are. Leave a comment or send me an email and let me know; after all, we're all on this journey together.
Thanks for stopping by!