To Do-ers List: Pray 'bout Everything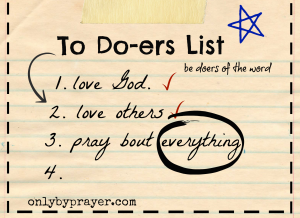 Day 3
To Do-ers List: Pray 'bout Everything
6 Be anxious for nothing, but in everything by prayer and supplication, with thanksgiving, let your requests be made known to God; 7 and the peace of God, which surpasses all understanding, will guard your hearts and minds through Christ Jesus. 8 Finally, brethren, whatever things are true, whatever things are noble, whatever things are just, whatever things are pure, whatever things are lovely, whatever things are of good report, if there is any virtue and if there is anything praiseworthy—meditate on these things.
Philippians 4:6-8

Be anxious for nothing.
In today's verse, God tells us to be anxious about NOTHING. Speeding tickets … tests … denting the car (I did that this week, ugh!) …  broken relationships … money … college …  kids … etc.
NOTHING.
How are we to be anxious about nothing? Instead of worrying, God gives us something else to do. Pray. Pray 'bout everything. Big things, little things, hurtful things, fun things, special things, ordinary things … everything. The Greek word for everything used in today's verse is the little tiny word pas, which simply means every thing. As my favorite Bible teacher says, If God tells us to pray 'bout everything, it's because everything can be affected by prayer.
When you pray, tell God everything on your heart. Pour out your feelings. Finally, (gulp, big leap of faith) ask Him to answer your prayer according to His will.
What happens after we pray?
And the peace of Christ will guard your hearts and minds …
I have dealt with stress in my life; I know this one. Anxiety has left its mark upon my soul. But, God promises to guard our hearts and minds if we offer Him our prayers and supplications (confiding in God about personal needs) with thanksgiving. In general, when do we offer thanks for something? When someone has completed a service for us. God knows our prayers before we offer them. He is already acting before we say Amen. That is why we can thank Him.
When I have finished praying, I can't say I have always felt peaceful. But, this is where faith comes in. Remember,
After we pray 'bout everything and thank God for acting according to His will, we have one more job to do: we meditate. Meditate on what?
Good things.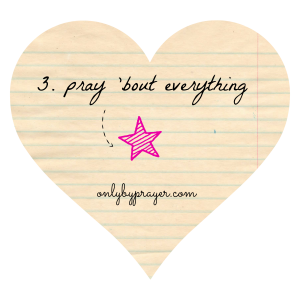 True things.
Lovely things.
Beautiful things.
Praiseworthy things.
Why?
Because prayer is a battle of the mind.
Satan will try to knock us off track. The world will entice us to worry. Our mind will try to lead us back to our familiar comfortable habit of worry. We must control our thoughts and focus our mind. What we think about is our choice. Stop the worry cycle. Turn your worries into prayers.
Worry-prayer-thanksgiving-true thoughts.
Worry-prayer-thanksgiving-true thoughts.
Prayer-thanksgiving-true thoughts. Leave the worry out.
Pray 'bout everything.
For Today:
As you go about your day, pray 'bout everything. Laundry, dishes, driving, washing your hair, mowing the lawn, exercising, texts, phone calls, chores, friends, enemies. Cover it all in prayer. Pray 'bout everything.
Use the To-Doers List Study Guide or a journaling app to plan and journal your day.
Prayer Resources:
Start the day off on the right foot. Pray now for God to show you things to pray for and to remind you to pray throughout the day (or set the timer on your prayer app). Don't forget to leave your comments below. I can't wait to hear from you!
Have a prayerful day.
In case you missed the first two days, click on the links below.

Mary Kane
copyright 2015
all rights reserved