Reflections #4: Shine Upon You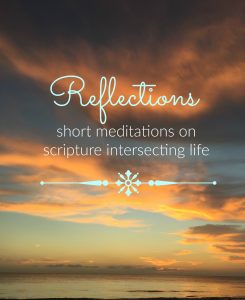 Thank you for joining us for Reflections, short meditations on scripture intersecting life.
Show Notes
In today's Reflections we are thinking about Numbers 6:24-26.
The Lord bless you and keep you; the Lord make His face shine upon you and be gracious to you; the Lord turn His face toward you and give you peace.
It makes my heart full as I welcome, as I receive this blessing from the Lord. I must never forget that I am a child of His Light. In the Message Bible by Eugene Peterson called Conversations, he says "Since Christ has dawned in our lives, light not darkness, is the fundamental reality by which we live. And the radiance of His face bathes us with the blessings of new and emerging life."
As Christ-followers, we need to be all about pushing back the darkness that is encroaching on our world, our countries, our states, our cities, our neighborhoods—and our families. Many people live in a spiritual state of darkness.
Join Only By Prayer in this Reflection by clicking the arrow below to see how we can reflect His light. You can also subscribe to this podcast on iTunes. Please leave us a review on iTunes if you desire.
Pray on!
SaveSave