Short & Sweet: The Book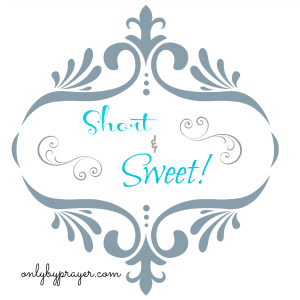 8 Then Hilkiah the high priest said to Shaphan the scribe, "I have found the Book of the Law in the house of the LORD." And Hilkiah gave the book to Shaphan, and he read it. 9 So Shaphan the scribe went to the king, bringing the king word, saying, "Your servants have gathered the money that was found in the house, and have delivered it into the hand of those who do the work, who oversee the house of the LORD." 10 Then Shaphan the scribe showed the king, saying, "Hilkiah the priest has given me a book." And Shaphan read it before the king. 2 Kings 22:8-10

I found it crammed in a dusty corner of my bookcase.
I had lost books before, but this incident took my library crimes to a whole new level.  My stomach churned and my hands shook when I unearthed a library book. I blew away the dust, opened the cover and discovered it was overdue. Not just overdue but OVERDUE — by about 5 years. The penalty would probably be huge. Probably jail time. Orange suit. Shackles. I' d most likely get out about the time I'd be ready to enter high school.
They found the Book of the Lord.
After years of neglect and idolatry, Israel has a good king; one who follows God with all his heart. Repairs were being made in the temple, a biblical "Fixer Upper." Suddenly, Hilkiah discovers the Book of the Law. The high priest gives the Book to Shaphan who reads it to King Josiah. And a nation is turned upside down.
I found the book of the Lord.
I remember very vividly, many years ago, the night I found the Book.  The evening I became a Christian, in my bed with a flashlight, I opened my heart to God and He opened my eyes to His word. I wish I could say I had never lost the Book since that time, but there have been seasons when His word lay in a dusty corner under the rubble of my broken life. Then God sent His worker, a "Hilkiah" to help me rediscover His word.
Have you found the Book of the Lord?
Do you remember the day you found the Book of the Lord? Where is your Bible right now? What place does God's word hold in your life? Does it keep you up at night wondering what will happen next? Do you swipe and click the moment you have a question or need counsel? The Book is not meant to be kept on a shelf or returned by a certain date. There is no penalty for keeping the Book, but there is a penalty for not following the Book. Even then, the fine has been paid in full by the blood of Christ.
Is your life in shambles? Is it a pile of rubble, or a fixer upper? God is in the renovation business. His tool is His Book. Renovation is a process, but if we cooperate God will give us beauty for our ashes.
Action Points:
Get in the Book. Read His Book. Study His Book. Join a Bible study. Add an extra study time to your daily routine. Download an e-version of the Bible on your device and study when you are waiting in line or in traffic.
Get the Book in you. Memorize Scripture. Commit to memory verses that deal with temptations or problems you face. Go big and memorize a whole book!
Get the Book in others. Who can you invite to church? Who can you invite to do a Bible study with you? Who needs you to send them a text with a verse today?
PS: In case you are wondering, I received a full pardon from the librarian when I confessed my crime and returned the goods.
Leave me a comment below about your adventures in the Book.
Life is sweet when you are in the Book.

All rights reserved.
Copyrights 2016