The Sacred Everyday #3: Free Wheelin'
Saturday morning found me zooming along on my bike to the butcher shop for my weekly shopping. There's something freeing about relying on your own power to get you around the city, and I love pedaling along the Monon Trail whenever I can. A wrong turn on the way home brought me through this neighborhood. Tired from the heavy load in my purple bag, I took a minute to rest under the scarlet maple tree.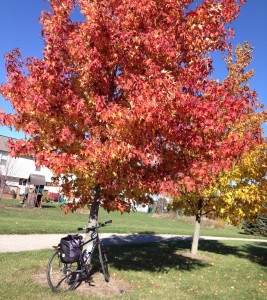 It was easy to see God's creativity everywhere I looked. "It won't be hard to find my Sacred Everyday here," I thought. The Sacred blazed brilliantly right into my Everyday morning.  Thanks for
sunshine,
            trees full of color,
                                              the breeze on my face,
                                                                                            crisp autumn air,
                                                                                                                        Butcher shop treats,                               my bike,
                                                                   and a peaceful morning
bubbled through my mind. How often do I miss the simple pleasures of life because I don't slow down enough to see them? Open my eyes to your Sacred Everyday, Lord. Open my eyes.