Advent Devotional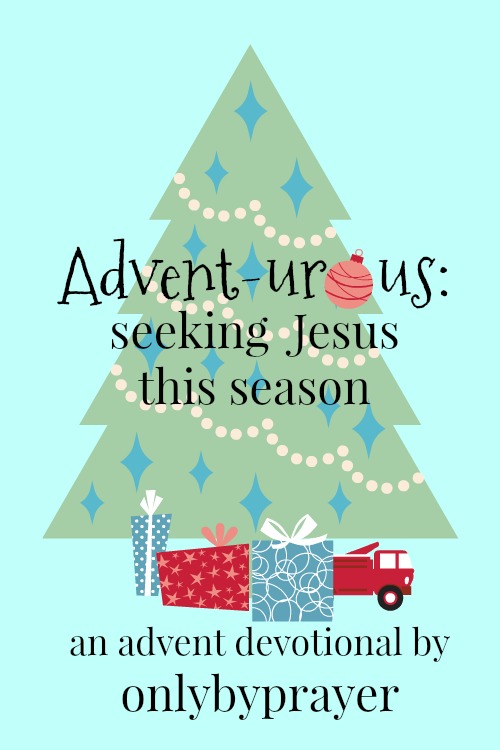 What Advent Is All About
Advent is about waiting – waiting for the birth of Jesus. It's the magical time when heaven intersects earth through the lives of ordinary people who are part of God's extraordinary plan to redeem the world.
Mary and I have been feeling the nudge to make time and space in our lives to prepare for Christmas by celebrating the Advent season. We'd like you to be part of it, too, by joining us on this Advent "journey."
Advent Group
We're introducing our Advent devotional called Advent-urous, Seeking Jesus in the Season. We've started the Advent-urous Facebook group and have released the above devotional ebooklet on Amazon Kindle. We're excited about this opportunity to prepare our hearts for Christmas. Here's what you can expect from our Kindle devotional:
Weekly scripture reading.
Five devotional readings, one for each the four Sundays of Advent, plus an extra one.
Theme of the week.
Weekly prayers.
Weekly activities to apply the theme to your life.
Optional participation in the Advent-urous Facebook group. In this group, we are encouraging people to post their thoughts and insights about the devotional reading for the week, their Advent prayers, and the activities they did to apply the theme to their life. You can post as many times in a week as you would like.
Advent Is a Season of Hope
As we said, this year we want to be intentional about celebrating Advent with meaning. No matter what your life's situation is right now, there's hope. Let's find it together.
The devotional begins on the first day of Advent, which for 2019 is Sunday, December 1. At any time during the week, you may post in the Facebook group about your experience. As God gives you more insight, or you try multiple activities throughout the week, feel free to post as often as you feel led. We'd also love to hear any new Advent ideas you have on how to apply the theme too.
Join Now
To get started right now, you just have to do two things.
We look forward to experiencing this Advent season with you!