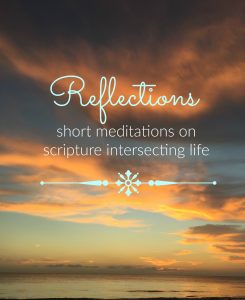 Thank you for joining us for Reflections, short meditations on scripture intersecting life.
Show Notes
In today's Reflections we are thinking about two scriptures, Matthew 7:7-8:
Ask and it will be given to you; seek and you will find; knock and the door will be opened to you. For everyone who asks receives; he who seeks finds; and to him who knocks, the door will be opened.
These two verses are actually a template for persistent prayer and give us much to reflect on. I discuss some of my important takeaways in this short podcast—and I'd like to hear yours, too, if you could kindly leave them in the comment section.
Just click on the triangle below to listen. You can also subscribe to us on iTunes so that the podcast updates directly to your account. If you enjoy the podcast, would you mind leaving us a review on iTunes? Thank you!
May your soul's meditations be fuel for Spirit-led actions today.
Pray on!
SaveSave
SaveSave