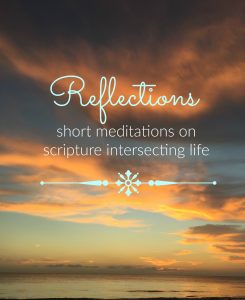 Thank you for joining us for Reflections, short meditations on scripture intersecting life.
Show Notes
In today's Reflections we are thinking about two scriptures: Isaiah 30:15 and Isaiah 32:17. As you listen to the podcast, you'll catch the similarities between the two right away.
What place do you have for quiet and stillness in your life? That's the question I felt like God was asking me today, one that I need to answer. That may not be yours.
As in any meditation, listen for what your message is from the Lord. What resonates with your soul? Write it down. Mull it over. Give some time to it. Pray over it. And keep the conversation going with God throughout your day. If you want to, share what was important to you in the comments below.
May your soul's meditations today be fuel for Spirit-led actions tomorrow.
SaveSave