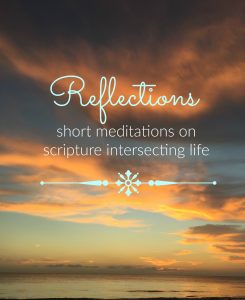 Then they came to Him, bringing a paralytic who was carried by four men. And when they could not come near Him because of the crowd, they uncovered the roof where He was. So when they had broken through, they let down the bed on which the paralytic was lying. When Jesus saw their faith, He said to the paralytic, 'Son, your sins are forgiven you.' Mark 2:3-5
The healing of the paralytic man is an incredible story. Jesus is in Capernaum, where so many healings happened. Not coincidentally, the people in this region had a strong faith. That realization made me stop and ask myself this question:
What is God wanting to do in my life, but He is waiting on my faith to grow up and catch up?
Perhaps you've wondered this same thing. Finish listening to this 5-minute meditation by clicking on the arrow below, or subscribe to our podcast on iTunes. If you like it, we'd appreciate if you'd leave us a review.
Thanks for listening. May your soul's meditation be fuel for Spirit-led actions today!