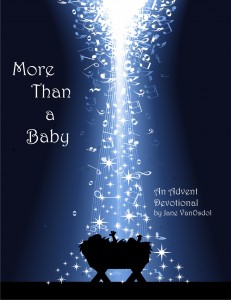 I've often approached the Christmas season in a rush and flurry of activity, with little preparation of my heart. Last year I was looking for an Advent devotional so that I could make my spiritual preparation for Christmas a priority, but I couldn't find one. So, I decided to write one. It's been an amazing experience, and it is my prayer that More Than a Baby will bless you as you prepare for Christmas. Each day includes a scripture, a photo or picture of a work of art, a worship song, a focus, an application and a prayer.
The devotional is available on Amazon as an e-book for an immediate download.
To find out more about the devotional or to purchase a copy, just click on the link below.
Thank you!
Jane
More Than A Baby:  An Advent Devotional