In the Morning
In the morning, O Lord, you hear my voice; in the morning I lay my requests before you and wait in expectation. Psalm 5:3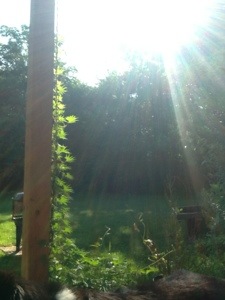 When I take the time to talk to God in the morning and read His word, it makes all the difference in my attitude and heart.
I am at peace.
One of the other Bible versions uses the words "and I look up" instead of "wait in expectation." This photo taken in my yard this morning is a reminder to me to do just that.
The cardinal creeper is climbing up reaching for the sun. I need to reach for the Son every morning too.