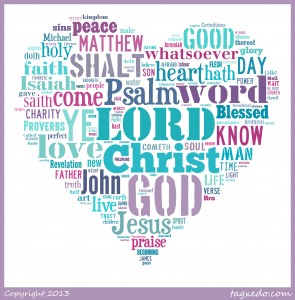 Ever since my daughter was a preschooler, she's been able to memorize things so easily. She put this skill to good use when we enrolled her in Awana. Amber loved working on her Bible verses every week. It seemed as if the verses just effortlessly implanted themselves into her mind and heart and rolled off her tongue. Many of those verses stuck with her through the years, and now as an adult, they've become words of life that she is able to apply.
That's why I love Psalm 119:11: "I have hidden your word in my heart that I might not sin against you." When I stockpile God's word in my heart, I can easily pull out the "ammunition" that I need at a moment's notice.
If I'm feeling fearful, I can recall 2 Timothy 1:7 "For God hath not given us the spirit of fear; but of power, and of love, and of a sound mind."
If I am depressed I can recite Nehemiah 8 :10 "The joy of the Lord is your strength."
If I need wisdom I can meditate on James 1:5, "If any of you lacks wisdom, you should ask God, who gives generously to all without finding fault, and it will be given to you."
What are you in need of today? The Bible surely has something to say about it. God has given us a storehouse of supplies to draw upon everyday — and amazingly this stockpile is never depleted. The only thing that is limiting us is how often we go to it to replenish our own supplies. We need to read His words and memorize them so that we are fortified for our battle in this world.
Pray on!