Christmas To Do-ers List, Day 2: Make Room for Him, part 2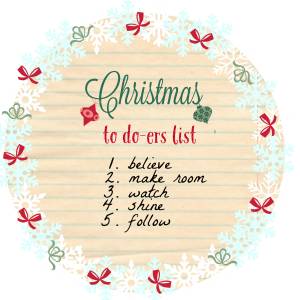 I love Jane's blog post on making room for Jesus. After reflecting on making room for Jesus, the verses below hit me in a fresh new way. While we may struggle to make room for Jesus, He always has room for us. Please read John 14:1-6 and leave a comment on what God is teaching you. Be a do-er of the word.
The Way, the Truth, and the Life
1 

"Let not your heart be troubled; you believe in God, believe also in Me.
2 

In My Father's house are many mansions; if it were not so, I would have told you. I go to prepare a place for you.
3 

And if I go and prepare a place for you, I will come again and receive you to Myself; that where I am, there you may be also.

4 

And where I go you know, and the way you know."
5 

Thomas said to Him, "Lord, we do not know where You are going, and how can we know the way?"
6 

Jesus said to him, "I am the way, the truth, and the life. No one comes to the Father except through Me."
John 14:1-6
Make room for Him today.
"Blue Letter Bible – Jhn 14: Gospel of John 14 (Blue Letter Bible: NKJV – New King James Version)." Blue Letter Bible. Web. 2 Dec, 2015. <http://www.blueletterbible.orghttps://www.blueletterbible.org/nkjv/jhn/14/2/p1/s_1011002>.