Bible Study Journal-Graphics by Mary Kane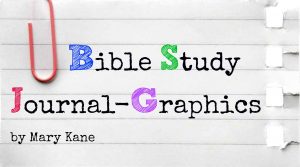 Do you need a little help organizing your thoughts while you are doing Bible study? Has your Quiet Time become a little predictable?
Try our new Bible Study Journal-graphics page. Jot down your thoughts, record important concepts, and organize scriptural truths no matter what Bible study book you are using.  Do you like to study straight from the pages of scripture?
Bible Study Journal-graphics will add a fresh approach to your study time.
Download your copy of My Bible Study Journal-graphics page from the link below. Print a fresh copy each day for your Quiet Time.  Please feel free to share this graphic organizer with your friends and family. Print several pages and share them at your next Bible study meeting or Sunday school class. Enjoy!

Let us know how you like using Bible Study Journal-graphics. Please comment in the  Speak Your Mind section below. We look forward to your feedback!