Lent: a season of empty to full, simplicity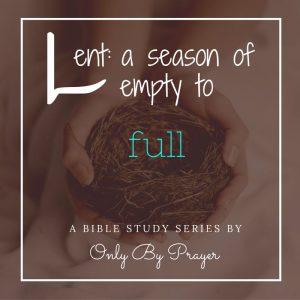 "For our boasting is this: the testimony of our conscience that we conducted ourselves in the world in simplicity and godly sincerity, not with fleshly wisdom but by the grace of God, and more abundantly toward you." 2 Corinthians 1:12
I like simple.
Simple pleasures, simple foods, simple days. A flower in an unexpected place.  A hearty bowl of stew on a cold wintry day, meandering down a country road or an evening with the family gathered in the living room sharing laughs and love … all of these things bring a smile to my face and peace to my soul.
Ironically simplicity requires difficult choices, an iron will, and nerves of steel. The world, your work, and even your own heart will try to sneak in and wreak havoc with a simple life.
Jesus led a simple life.  He had one goal: to do His Father's will. How simple is that? Without a smart phone or iPad (my two mainstays), He managed to turn the world upside down. In order to live a simple life, we must simplify our priorities.
Simple Life Focus:
One command: Love the Lord with all your heart
One commission: Tell the world
One goal: Bring Him Glory
Empty your heart. Fill up with God.
It's simple.
To learn more about the simple life, simply scroll through the Sway. Have a blessed Lent.
Here is our TalkShoe chat on Simplicity:
Have a simply blessed Lent.

copyright 2016
all rights reserved.