With it's slightly sweet honeyed scent and glowing colors ranging from yellow to orange, it's hard to resist natural beeswax.
Three years ago my husband and I took up the mantle of beekeepers, and while we have much to learn, we are fascinated by the day-to-day workings in a beehive and the goodness that the bees give to us. Besides pollinating about 70 percent of our food crops, honeybees produce honey, beeswax, royal jelly, pollen, and propolis.
Today I want to focus on beeswax.
Beeswax is produced by bees of the genus Apis and it's actually comprised of over 300 components, including long-chain alkanes, acids, esters, polyesters, and hydroxy esters. What I find fascinating about botanicals including beeswax and essential oils, for example, is the very fact that we are using substances as God made them complete with all of their components within them.
The reason I point that out is because when we consider the fact that most pharmaceutical drugs are isolating a single compound in a plant, synthesizing it and then distributing it as a pharmaceutical, we can see why we are having the problem with bacteria and viruses being able to mutate and become stronger than a drug, rendering the drug useless or much weakened in power. When you isolate one substance from the others in its natural state, you are ignoring any possible interactions with the myriad other substances that are probably contributing to the efficacy of the isolated substance.
Beeswax Uses Past and Present
Now let's look at how one of my favorite substances has been and can be used.
First of all, beeswax has been used for thousands of years in many different countries and cultures like Europe, Israel, Egypt and China. Applications included medicinal uses, beauty products, dietary supplements, and of course candles. Ancient writings even contain recipes of medicines and beauty products made with beeswax.
Today beeswax is used in numerous ways including candles, ornaments, encaustic art, crayons, lip balms, salves, creams, balms, furniture polish, and as a waterproofing agent, in soap making, and in candy—just to name a few things!
Benefits of Beeswax
Beeswax is an emulsifier and a thickener, which makes it so beneficial in natural cosmetics.
It has emollient properties and can help seal in moisture to your skin.
It is healing for your skin. A powerful trio of ingredients used together in many recipes are beeswax, honey, and olive oil.
It's interesting to note that beeswax is also being studied for its antimicrobial properties (see link below to an article on this).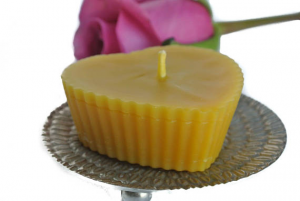 I use beeswax in many of my products. I love beeswax candles because they don't have any added chemicals in them. When I am burning a candle in the house, I don't want to be adding substances to the air that could possibly be irritating to the respiratory system. The natural, gentle sweet aroma of pure beeswax is just right.
I also favor beeswax for its ability to act as a natural thickener and healer in my products, such as salves and balms and solid perfumes. Since it appears that beeswax may have antimicrobial (antibacterial and antiviral) properties, I consider this an added bonus that can only benefit the user.
When looking for local beeswax for sale, try to buy from a beekeeper that does minimal processing. Beeswax should still retain its scent and color.
How to Break Apart a Block of Beeswax
Working with the big blocks of beeswax can be a bit tricky. I have found two ways to break off smaller amounts of beeswax from the one-pound blocks:
Take a clean screwdriver and hammer. Pound the screwdriver into the beeswax until you fracture off a piece of beeswax that is easier to work with.
Use a sharp serrated knife to saw away at the beeswax, which will give you smaller chips of beeswax. Take care that the knife doesn't slip.
To clean beeswax off of your utensils or pans, I have found the easiest thing to do is to boil water in a kettle. As the water is steaming, hold the object to be cleaned in the stream of steam, constantly wiping off the melting wax with a paper towel until all the beeswax is removed. Be careful not to burn yourself!
Today I am sharing a video I made for my Etsy shop that highlights four of my products that contain beeswax including solid perfume.
Thanks for watching! Let me know of your experience with beeswax in the comment section below. Also see below for helpful (affiliate link) resources of books that I use for reference.
 Beeswax: A minireview of its antimicrobial activity and its application in medicine This is an interesting article about the scientific study of beeswax.
Book source: Beeswax Alchemy: How to Make Your Own Soap, Candles, Balms, Creams, and Salves from the Hive
On a side note …
I'm very interested in those who are studying natural antibiotics and natural antivirals and their current and future role in the fight against bugs and superbugs. I've included two books that address this topic: Herbal Antivirals: Natural Remedies for Emerging & Resistant Viral Infections
and Herbal Antibiotics, 2nd Edition: Natural Alternatives for Treating Drug-resistant Bacteria
.
SaveSave
SaveSave
SaveSave
SaveSave
SaveSave
SaveSave
SaveSave
SaveSave
SaveSave
SaveSave
SaveSave
SaveSave
SaveSave
SaveSave
SaveSave