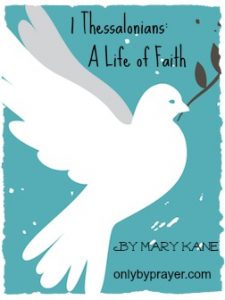 Welcome to part 4 of 1 Thessalonians: A Life of Faith. I pray God richly blesses you for your diligence to His Holy Word.
Proverbs 22:1 states,  "A good name is is to be desired more than great wealth."
A good name is very important. Indeed, parents expend great amounts of time and energy in choosing the perfect name for their progeny.  A poorly chosen name can mean a life of frustration for the the one who bears it. Names serve not only as markers of identity, put they become indicators of character as well. Say the name of a well-loved individual and everyone's face will light with favor. Unfortunately, the opposite is also true; the mention of a bad name produces discord and murmuring.  There is one Name that stands above every other name. At the sound of  The Name, every knee must bow and tongue that Jesus Christ is Lord!
To continue 1 Thessalonians: A Life of Faith, please click on the link below.